Best Quality Paper Napkin Printing Machine for Sale in China
High Speed Paper Napkin Printing Machine Manufacturer in China
A Paper napkin printing machine is used for making tissue paper servings in different sizes, forms, patterns, and colors. It reduces production time and costs and benefits you. Therefore, for any industry that produces paper napkins, this machine is vital. It is vital to install it professionally if you want your computer to function well for a lengthy period.
Below videos of different types of paper napkin printing machine for your reference.
Direct YouTube video links:
High resolution best quality multi colors printing paper napkin printing machine video: https://youtu.be/qmvIJNqxeH0
Basic color printing paper napkin printing machine video: https://youtu.be/3QFhVRBZMhg
If you like this paper napkin machine in the video, please kindly help to give this video a thumb-up and subscribe the YouTube channel. Thanks.
Please subscribe YouTube channel to follow more videos of our paper napkin printing machines:
https://www.youtube.com/channel/UC4kDnhV8pMhUG2PXey1qtSw?sub_confirmation=1
All you have to do is put together its pieces to install the tissue printing napkin machine. It comprises primarily of four pieces, i.e. the takeup unit, the pricking unit, and two roller jumbo holders to retain the paper roll. It's simple to install and takes only a few minutes, saving you time and starting. Today, the paper towel machine is significant since it saves a lot and allows you to get more. It has a long life and may be used for a very long time.
As you know, paper napkins are very common in life. More and more tissue paper manufacturers are investing in setting up production lines for making paper napkin production lines to sell at a competitive market price. The paper napkin printing machines, also called napkin-making machines, can make the jumbo roll into square or rectangular paper napkins, they include color printing, stamping, counting, folding, etc. According to the paper napkin, ACE Machinery is a leading paper napkin printing machine manufacturer in China and can make the best quality paper napkin printing machine that delivers the napkin cutting machine and the napkin folding machine for your company.

Below image of high quality high resolution printed paper napkin printing machine for reference: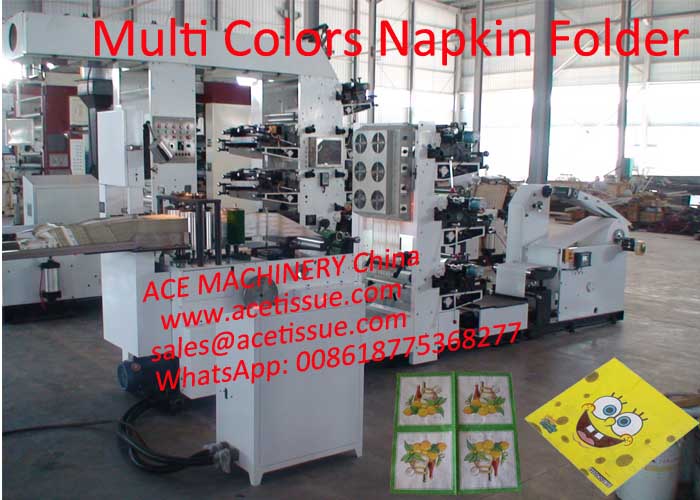 Functions Of A Paper Napkin Printing Machine
Making paper napkins is a daunting task that requires a lot of effort and time as you have to start the pulping process to give it its final look. Automatic paper napkin-making machines are used to produce paper napkins in large quantities. In this machine, the work of feeding, shredding, threading, and finishing is completed in a very short time.
This machine is mainly used in the paper napkin industry to make various types of tissue papers. Tissue paper napkin machine manufacturers make this machine into account the needs of your production so it is perfect to produce large volumes in less time.
The double decks, knife sharpening, integrated band saw, pneumatic lifting arms, length cutting units, single napkin lift are some of its features that increase the efficiency and effectiveness of the device. Roll into shape, square or rectangular as required. Its speed is excellent and it is completely controlled by the frequency converter.
In addition, thanks to the latest technology, it also counts the number of paper napkins that it produces at one time. Remote control for operating the device, which is also installed behind the machine, so that its speed can be controlled during the paper feed at start-up.
In short, this automatic paper napkin machine is ideal for the needs of your industry. Instead of wasting time and money making paper napkins, install this machine now.


The best quality paper napkin printing machine for sale in China can print high resolution 2 to 8 colors fully printed amazing logos like Disney cartoons, animals, human face, flowers, words etc.
Below is final multi colors high quality printed paper napkin made by the best quality paper napkin printing machine in China: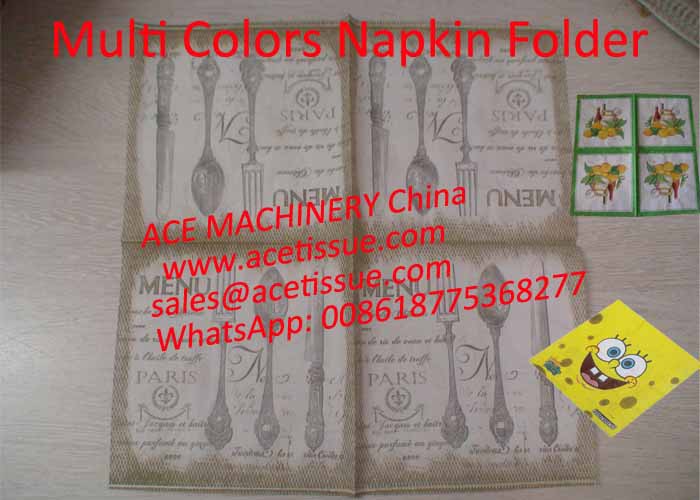 Key Features of paper napkin printing machine in China:
· Automatic counting, a full column, convenient to pack
· Folding place Reliable positioning, uniform modeling size
· We can make various specification models according to customer requirements
· Steel wool roller tapping, the pattern is clear and varied.
· The Color printing function is also available
Specification of the paper napkin printing machine for reference:


napkin size

300x300mm
250x250mm
200x200mm etc.

printing register tolerance

± 0.1mm.

Embossing unit

steel to paper

Speed

up to 200 m/min.







How does an automatic tissue napkin printing machine help you increase your production?
· Automatic paper napkin printing machine speeds up production levels and can help you earn more with higher revenues.
· The machine saves fuel and allows you to do more with the machine.
· We all love to work with machines instead of our hands because they deliver better quality in less time.
· The fixed costs remain constant and the output increases with increasing variable costs.
· The machine works faster than the semi-automatic one and is better at handling sensitive objects such as tissue paper.
How Much Paper Napkin Printing Machine in China Costs?
While buying any products, its cost matters first. In different countries, the price of paper napkin printing machines can vary depending upon the quality and working.
Paper napkin printing machines are available in different China manufacturers ranging from 5000$ to 100000$.