Automatic Feed Cores JRT Machine NO Need Air Shaft
Automatic Industrial Maxi Roll Slitting Rewinder in China



20 years China manufacturer of Automatic Industrial Maxi Roll Slitting Rewinder in China with printing embossing lamination.
1- Technical parameters
of our machine to make JRT maxi roll tissues. It can make also toilet tissue on the same machine.
2- Mother roll width: 1300mm - 3500mm.
3- Mother roll diameter: 1200mm. Or customized uo to 2100mm.
4- Paper cores feeding: Automatic feed the paper cores. No need hand put.
Rewinding section: Automatic drops the pre-cut paper cores and then spray glue on the cores so that the tissue paper will automatically stick to the paper cores and then rewind. After rewinding, it will automatically push the finished.
Rewinding shaft: NO need the heavy pneumatic air shafts. It can save lots labor and increase the production at high speed and also protect the workers from being hurt by carrying the heary shsafts.
Perforation system: Automatic perforating.
Driving system: driven by chains or belts, or indepdent motor drive.
Embossing unit: Steel to rubber or steel to paper.
Installed power: about 7.5kw.
Electricity: 3phase, 380v 50hz or 3phase 220v 60hz or customized.
Machine weight: about 4500kg.
Machine dimension: about 6x(1.5-4)x2m.


Below picture of
fully automatic JRT converting machine
for reference.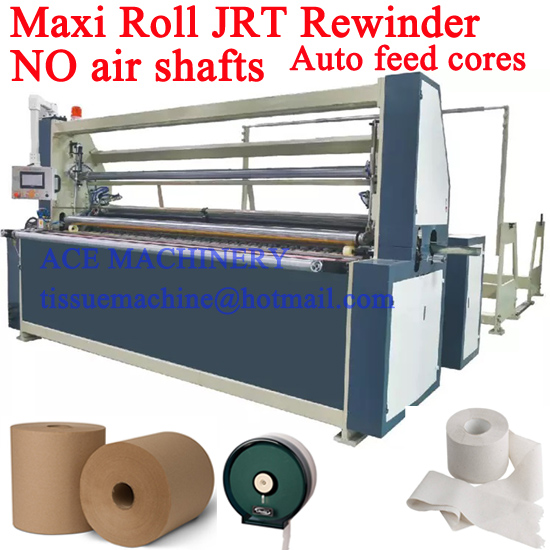 Below is video of our JRT machine for your reference.