High Speed 2Lanes Fully Automatic Napkin Making Machine with Auto Transfer
2 Lanes High Speed Fully Automatic Napkin Making Machine with Auto Transfer to Packing Machine
1. Applicable material
1)14-18 g/㎡ 2-ply wooden pulp tissue paper or 18-20 g/㎡ 1-ply wooden pulp paper(with wet strength agent).
(2) Jumbo roll size: φ1500×600㎜;
(3) Jumbo roll inner core size:φ76㎜;
Video of this
High Speed Fully Automatic Napkin Making Machine with Auto Transfer in CHINA:
2. Unwinder section
(1) With 1 jumbo roll unwinder stand.
Wide flat belt unwind.
Pneumatic control.
(2)Auto web tension control system.
(3)Automatic loading the jumbo roll pneumatically.

3. Folding Unit
(1) Final napkin open size:(300×300mm)±2mm;
(2) Napkin folded size: 150×150(+3mm), 1/4 fold
(3) The gaps between the folding rollers and the paper guiding rollers are adjustable so that it is able to run papers with different gsm, quality and thickness.
(4) Round bandsaw blade cutting.
(5) Production speed: high speed up to 2800 napkins/min.
(6) with left and right 2 lanes folders heads
4.
Auto tranfer unit /stack unit"
(1)Transfer quantity / stack quantity: 50-150 sheet/stack/count Height = 45-100mm;
(2)Transfer / stack format: penumatic;
(3)The stack are pushed to the conveyor of the automatic napkin packing machine by cyliner.
(4)optical sensors detection and auto stop if any faults happen.
(5) Transfer speed /stack speed: about 20 stack/min each lane * 2 lanes.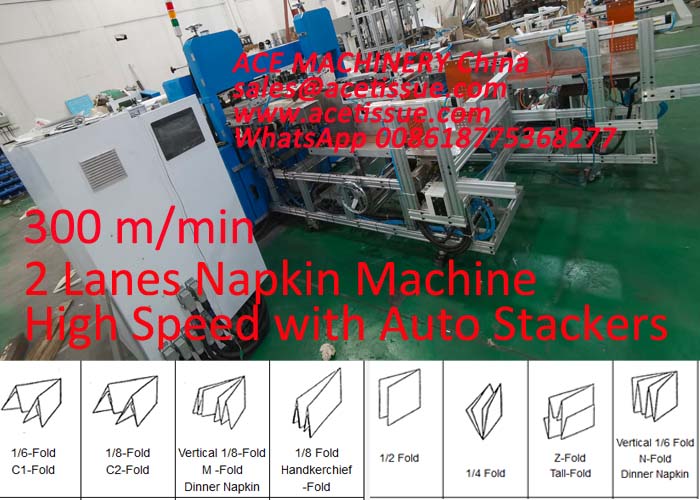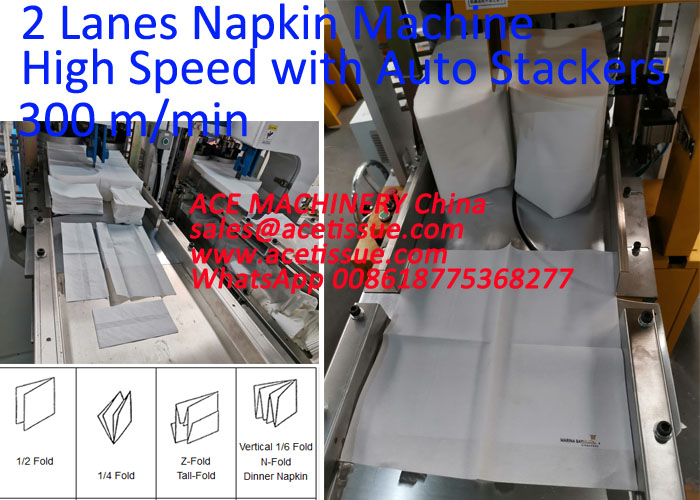 5. Embossing Unit
With 1 set of steel to paper (wool coated) embossing unit(embossing pattern provided by the customer.)
Mechanical press.
The gap between 2 embossing rollers can be adjusted to adapt to tissue papers with different quality and gsm."

6. Printing Unit
(1)With 1- 4 colors flexo printing units.
(2)The ink system is with rubber to ceramic anilox roller transfer the ink.
(3)Hand wheels for colors printing register adjustment.
7、Auto web guide system
(1)Electrical type auto web guide ratification system to keep the paper running straightly always.
8. Control system
(
1) main motor controlled by frequency conversion inverter.
(2) auto counting unit (1-999 sheet/count or stack)
(3) Auto stop if paper breaks.
(4) Emergency stop function.
(6) Installed power: AC380V 50HZ 10KW; or customized.
(7) Air pressure required: 0.5Mpa